As you may conclude by looking my favourites i am absolutely female-ass man.And your lady has one of the best ever seen female butts.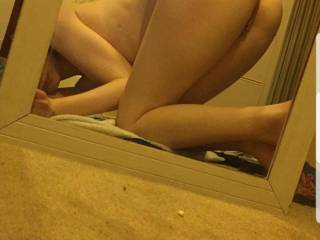 Mmmmmy favorite one position! I'm gonna grab that hot ass with my hands and start to lick gentle and hard rubbing up/down through your ass gap - your pussy and asshole, playing with clit, eat it all your sweet pussy, continue do tongue fuck and fingering your holes. Make your pussy very hungry to feed her deep fulfilled with my big very hard cock. 
I'm gonna drive you crazy and make you very wild.
You gonna groan, moan, roar, scream.
I'd (I'll) kneel and fixing your legs with mine or climb on your sweet hot ass, start teasing your ass and pussy rubbing up/down through your ass gap with dickhead of my big hard cock in my hand, then start to ride and drill you - first tease your holes with my dickhead do rubbing circles then slide shallow dickhead only, then stinging you in/out (pull your hair back, nibble your shoulders and neck), then ramming and drilling deep fulfilled you deep inside. That will gonna be a wild ride. U can never imagine how sexy u look for me, perfect body, i love to hold u tight and kiss you so passionately then go down kissing, play with your wonderful tits and suck your nipples and pull them with my lips, make u suck them with me ,then go down kissing all the way to eat your pussy, lick thighs, turn u around to kiss your ass even kiss and lick your ass hole, do u like me to kiss your ass? Luv to spank that sweetness then pleasure and spank and pleasure repeat again until your squirting with delicious juices that i will lick all up with my face and then i would bang you long and hard every way till your dripping with orgasmic delight. I love her ass. I would love to instruct her to bend over just like this and manhandle her ass. Spread her open and expose both her slut holes from behind. Spank her cute butt, finger her, eat her from behind and then take turns fucking her. I'd love to pound her pussy and arse like this, such a petite young slut that needs to take cock fast and hard! I love a good slut from top to toe, but i do love a small pair of tits!